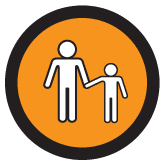 In an emergency or disaster, school is the safest place for students until they are with their parents. Student release procedures were created with your child's safety in mind.
• Remember to listen to communications from the District/school.
• Your child will only be released to an authorized emergency contact; photo ID is required. Students cannot self-dismiss (walk home by themselves) and shouldn't leave until their parents or emergency contact sign them out. The release procedures can take time, please remain patient.
• Reduce traffic congestion – carpool or walk if you can.